The Penguins of Madagascar is a spin-off of the Madagascar films. The series follows the adventures of four penguins: Skipper, Rico, Kowalski, and Private, who perform various paramilitary-like missions to protect their home in the Central Park Zoo. The penguins often have to deal with problems caused, or made worse, by King Julien XIII (a ring-tailed lemur), Maurice (an aye-aye), and Mort (a mouse lemur).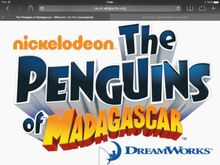 Ad blocker interference detected!
Wikia is a free-to-use site that makes money from advertising. We have a modified experience for viewers using ad blockers

Wikia is not accessible if you've made further modifications. Remove the custom ad blocker rule(s) and the page will load as expected.