Shrek! is a picture book written and illustrated in 1990 by William Steig about a young ogre who finds the ogre of his dreams when he leaves home to see the world.[2] The name "Shrek" is derived from the Yiddish and German Schreck (Yiddish שרעק) meaning "fear" or "fright." The book served as the basis for the popular Shrek film series over a decade after its publication.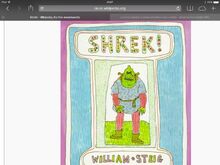 Ad blocker interference detected!
Wikia is a free-to-use site that makes money from advertising. We have a modified experience for viewers using ad blockers

Wikia is not accessible if you've made further modifications. Remove the custom ad blocker rule(s) and the page will load as expected.